Episode 14 – Flashback - Opening Bay Shores for the Season
The Bay Shores - Bay Avenue, Somers Point, N.J. Circa 1965
Bay Shores manager Jack Murray had been driving his white Cadillac convertible north for three days, coming up from his annual winter sojourn in Ft. Lauderdale, Florida, and trying to get into the frame of mind of working another summer season on the Somers Point bay.
While he was driving down the Black Horse Pike he thought he was moving pretty fast – over 70 miles per hour, but was quickly overtaken and passed by group of about a half dozen or so motorcycle bikers wearing Hells Angels patches and California rockers, and slowed down to the legal speed limit.
About forty-five minutes later, as he turned around the Somers Point circle, he saw the same bikers being escorted off the causeway by a convoy of three Ocean City police cruisers, a sight that brought an ironic smile to Murray's face.
He turned off the circle and made a quick right down the first side street and pulled into the vast and empty Bay Shores parking lot, littered with broken bottles and cans and pulled up to the front door of the dilapidated old wooden clapboard seasonal nightclub that had been there for as long as anyone could remember.
It was a weekday in mid-May, and Murray hadn't been back since he locked the door after Labor Day 1964, eight months ago.
After unlocking the padlock on the chained door, Murray turned the handle and pushed the door open a crack with his shoulder as a rush of stale beer and cigarette smoked air flushed out past him. As the door opened wider the streak of sunlight glistened on half filled beer bottles, drink glasses and ashtrays on the bars, the leftovers, exactly as it was at 4 am on the day after Labor Day 1964.
Bay Shores interior from the front door. Photo by Roger Evoy
That was the night Harry Anglemeyer was murdered, Murray thought momentarily. In fact, Harry was probably still alive when he locked up and left town that night, the last morning of a memorable season.
That was some grand finale to the end of the summer of 1964, one that would be hard to top – with the Democratic National Convention ten miles away in Atlantic City, the Beatles at the Boardwalk Hall, the Miss America Pageant, Jerry's Kids Telethon, Sinatra at the Five, hell, Harry's murder seemed to have gotten lost in the headlines, bumped from page one of the Press of Atlantic City to the back pages, and has probably since been forgotten by most people. But not everybody.
As Murray flipped on the electric and lights and surveyed the disaster in front of him, one that had to be cleaned up so they could reopen for Memorial Day weekend, a car drove up and a young man in half an Army uniform got out and said, "Hi, are you Mister Murray?"
Murray shook his head yes.
Reaching out to shake hands the young man introduced himself, "I'm Vince Rennich. My mother introduced me to Mr. McCann at dinner last night, and he said if I came down here you would give me a job at Bay Shores."
Then, looking at the dilapidated old building asked, "This is Bay Shores?"
"
Yes, welcome to Bay Shores and Somers Point," Murray replied. "I think you'll like it here once you get into it."
"
This is the first time I've been to Somers Point," Rennich said, "and I got lost getting here."
"
Well, you can work as a bar back until a bar tending job opens up, and can start by helping to clean up this joint – clear off the bars first and then sweep the floors. I'll be back in a little while with some help for you. And you can have the pick of the rooms upstairs to stay in," he said as an afterthought.
Murray then drove down the street a few blocks and turned up Delaware Avenue to Gregory's Bar where he parked on the street and went in the back door by the pool table.
Gregory's Bar as it was circa 1965
He sat at the old Mahogany bar across from what they call the Tight End Fishing Club.
Gregory's has changed a bit since then, though the long polished, rectangle Philippine mahogany bar is still the same, in 1965 there was a pool table in the back with a juke box, a dart board next to the Men's Room door, a shuffle board against the side wall and a wooden telephone booth with folding glass doors next to a table from where the Somers Point mayor conducted most of his afternoon business.
Somers Point Mayor Stretch's routine was to work at his city hall office until noon when he would walk across the street to Gregorys for a three martini and snapper turtle soup lunch.
Murray ordered a drink from Charles Carney the bartender, and bought "the boys" a round, before ordering some clams on the half shell that made Carney's eyes roll as he had to shuck them himself, part of the job at the time. While Carney shucked his clams in front of him Murray told Carney that he had a new guy came in without any experience, a friend of Mr. McCann, and he asked Carney to "show him the ropes," so when he moved up from bar back to bartender, he knew what to do.

"Send him up for lunch tomorrow," Carney said with an Irish smirk,. "And I'll show him the ropes and teach him a few tricks," he paused for effect, "like how to rip off the owners."
Murray knew Carney pretty well from when he was a bartender at Bay Shores a few years earlier, and knew he was only kidding, so he went on and explained to Carney that he needed a work crew to clean up the bar so he could open by Memorial Day weekend.
A few guys at the Tight End Club overheard him and quickly spoke up, some had done the chore before.
"
We'll help you Jack," said Bill Saylor, a carpet layer by trade, who knew that Murray would pay them well in cash and let them have whatever booze was left when they closed the bar last Labor Day.
The crew included Saylor, brothers John and Timmy Hunt, Gary Duffy and Wayne Kline, a paraplegic by birth who walked like a crab but was very smart, had a college degree as an accountant, but was severely handicapped. He also worked as the golf cart manager at the Atlantic City Country Club – the Northfield links, and for drinking money, he cleaned up the Bay Shores parking lot of debris every morning when it was open.
Wayne Kline walking across Bay Shores parking lot.
Photo by Roger Elvoy.
Murray walked over to Bill Saylor and pealed off a C-note hundred dollar bill and gave it to Saylor, telling him to buy some pizzas and hoagies for the work crew and then pealed another C-note and told Saylor to give it to the new guy at Bay Shores, Vince Rennich, just out of the army, a friend of Mr. McCann. "Tell Vince that this is just an advance, and I'll check back with you in a few hours after I take care of some business.
Saylor just nodded, as he had done this before, as the Tight End Club looked at Murray like the Iceman Commeth, bringing some much needed work, some cash flow, booze to drink and food to eat while you worked.
Murray then went over to Somers Point Mayor Stretch's table and sat down with his drink as the mayor put down his newspaper so you could see his face for the first time.
"
Thanks for the drink," the mayor said, as he was considered "one of the boys," but he winched a twitch when Murray asked him the status of the Anglemeyer case.
"
It's all covered," the mayor said. "It was a homosexual hit squad who targeted Harry and tried to blackball him. They confessed and are already in jail. It's all covered."
"
What the fuck do you mean 'it's all covered,'?" Murray talked down to the mayor.
"
It's going to trial soon, and will all be over by Labor Day," the mayor said confidently. "Since Egg Harbor Township doesn't have a police force and the State Police are too busy, the case file has been given to the Ocean City PD, and they've got it all under control."
Murray knew better, but didn't want to tell what he knew to the mayor of Somers Point, who apparently was out of the loop on what was really going down behind the scenes.
"
Well here's a dime," Murray said slapping a ten cent piece on the table.
"
Call Mr. Kirkman and tell him that I'm coming to see him, now," Murray said emphatically, getting up, walking back to the bar to put his drink down and leave a $20 tip for Carney, waved to the boys who were still at the bar and walked out the back door.
He nodded to Bill Saylor across the street, loading up the work crew into his long white van filled with carpets, and said, "I'll check in with you in a few hours."
Making a left on Shore Road Murray passed Mac's and the Shoe Store on the left and Somers Mansion on the right, the High Point, Point Diner, Your Father's Mustache as he turned around the circle past the Crab Trap and Circle Liquor store, and right onto the cause way and over the draw bridge, from where in the distance across the bay he could see the Flanders Hotel on the far horizon, standing out on the Ocean City skyline. As he got closer he could see Kirkman's two-story square penthouse on the top floors, and wasn't looking forward to going there.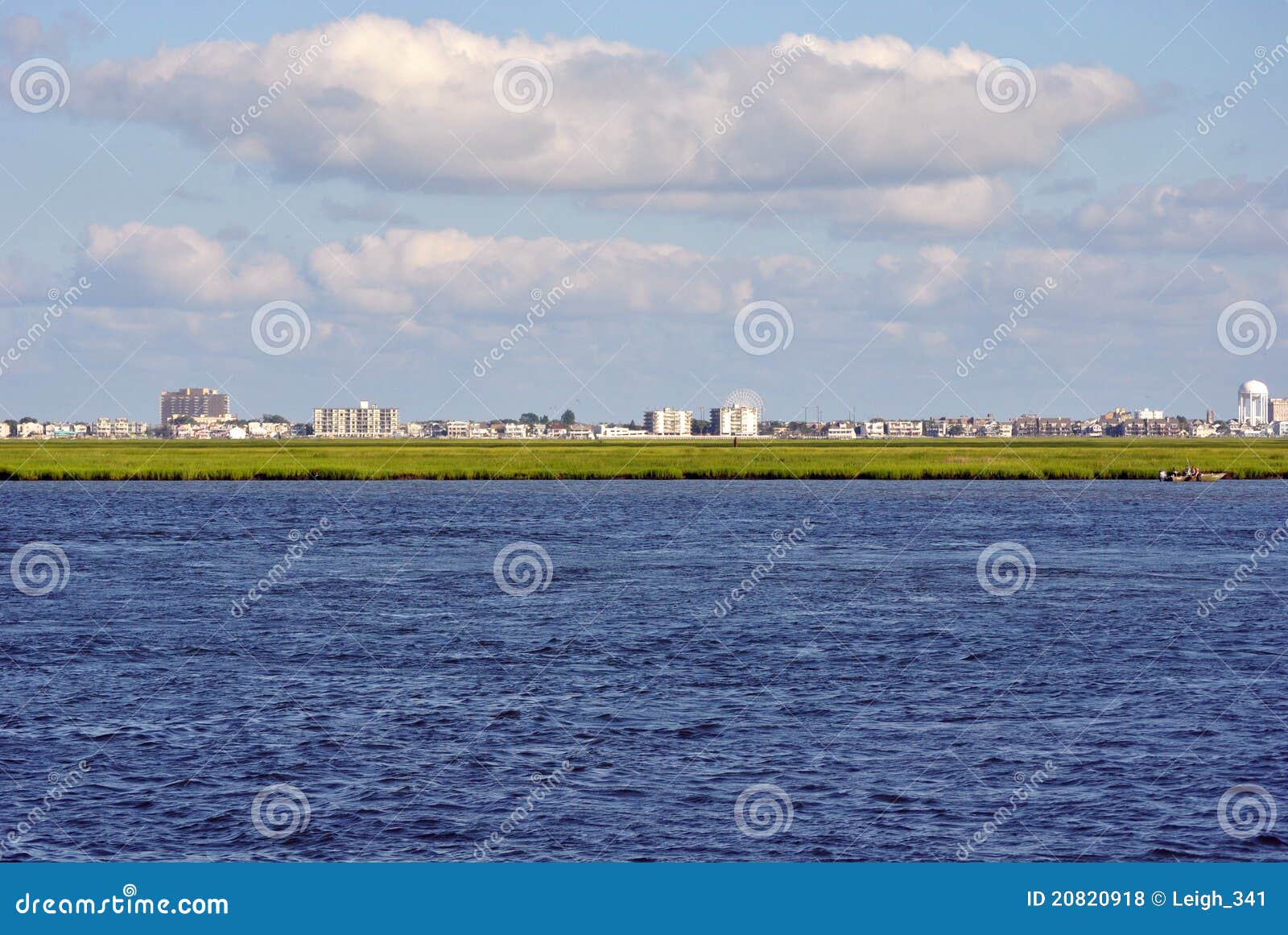 Murray considered going right to the top to see Stumpy Orman, who he knew was right then holding court at a table at Arnold Orsatti's restaurant in Atlantic City. While Murray had never met Orman, he knew he was the top underworld boss at the Shore, and Murray was acquainted with Orsatti, who owned Orsatti's Casino that was now the Under 21 Club, next door to Bay Shores, where they had top flight entertainment, but no booze, and was popular for its endurance dance contests. Orsattti wasn't really a mobster like Orman, but he was his congenial host, and let Orman take care of his business out of his restaurant, and was handsomely rewarded for it.
But he would be stepping out of line by going directly to Orman, so Murray decided to stay in rank and talk to Elwood Kirkman instead, as he was more in tune to the Ocean City political situation, which was being haunted by the Anglemeyer murder, then as now, over fifty years later.
Murray knew that Anglemeyer wasn't killed by a homosexual hit squad, because while he was in Florida he learned from a police source that a very distinctive diamond ring, that Harry Anglemeyer ostentatiously wore on his pinkie finger, was stolen the night he was murdered, probably by one of the three guys who picked him up and put him behind the wheel of his parked car.
And the ring had been pawned in Florida by someone Murray knew was a bouncer at the Dunes, who worked for his boss, John McCann, Sr., the co-owner of Bay Shores.
It wasn't "all covered," as the mayor of Somers Point had professed, and Murray wanted to protect his own interests and the interests of his boss and that of Bay Shores and the Dunes.
This was just the beginning, Murray thought, as he drove over the second draw bridge and onto Ocean City's Ninth Street, and where it would end no one knew.
END OF ACT ONE – The Summer of '65 Revisited.
Coming Soon – Act Two – The Long Cool Summer Plays Out.